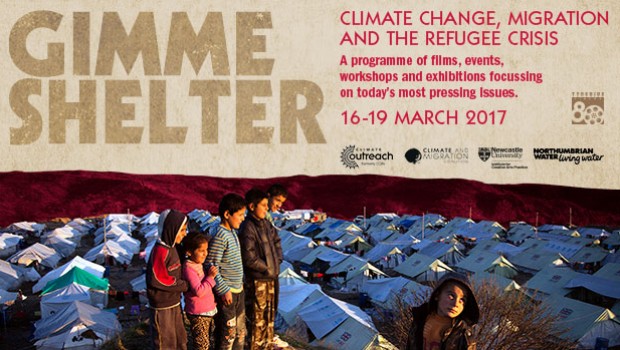 Gimme Shelter: Climate Change, Migration and the Refugee Crisis - Tyneside Cinema, Newcastle upon Tyne, UK. 16 - 19th March. (Website)
A special programme of film, visual art, workshops and events focusing on today's most pressing issue.
It is predicted that climate change will have a big impact on human migration in the next 50 years, with millions set to be displaced by shoreline erosion, coastal flooding, intensifying drought and further agricultural disruption.
Tyneside Cinema aims to inform and spark discussion through a curated programme focusing on the urgency of action on climate change as well as its very real connection to the current refugee crisis. The programme contextualises these issues and will cultivate a better understanding of the reasons behind human displacement and will see filmmakers joined by leading experts to discuss the connection between climate change, natural disasters and migration.
Presented in partnership with Tyneside Cinema
---
Distant Neighbours
Since 2008 Wood has been working on a visual book titled 'Distant Neighbours'. The chapters in the book make up a series of individual exhibitions exploring global migration at site specific border crossing locations.
The First Chapter
Vecinos Distantes focused on the US / Mexican borders between Tijuana to Nogales in Mexico and Yuma to Ruby in Arizona. Wood lived in Ruby, a ghost town, for five months collecting found objects, filming and documenting her findings.
("Vecinos Distantes" is Mexican street slang for borderline states of the USA)
Chapters Two and Three
Vincini Lontani focused on Lampedusa Island and North Africa. Wood has been travelling to and from Lampedusa in the last couple of years. In 2011 she presented her findings in exhibitions at Upstream Gallery, Amsterdam and Payne Shurvell Gallery, London.
Chapter Four
Vincini Lontani - TO6411. The Italian government has donated a migrant boat to Lucy Wood who intends to sail in 2013 from Lampedusa to London stopping at several cities, towns and villages in six European countries.
Chapter Five
Filmed on location in Al Zaatari refugee camp in Jordan, reflecting on the link between climate change and immigration. Wood filmed individual Syrian Farmers living in the camp on the effects of draught and the recent upraising. Wood also filmed a unique inside /outside view of the camp
Please see the press releases for each chapter for more information.